Do you want to know how the richest people in the world are getting even richer? Check out this article on the Rise of Global Billionaire Wealth. This is your go-to source, providing insightful analysis on this fascinating topic.
A recent study shows that global billionaire wealth has exploded in the past year. It's doubled since 2009. According to the report, there are now 2,158 billionaires worldwide, and their combined net worth is $7.05 trillion. The United States continues to lead the way with 585 billionaires, followed by China (mainland) with 319 and Europe with 298. Interestingly, while Russia has only 55 billionaires, they have the most individual wealth at $1.12 trillion.
What does this mean for your business? If you want to stay ahead of the curve – or even keep up – you need to know where these mega-rich are putting their money and how they're changing the game.
At the beginning of the pandemic, there was a rise in global billionaire wealth by $5.5 trillion. 2021 marked the third year in a row that has increased the rate of billionaires. It was also the weakest growth noticed since 2018. In this article, we will discuss billionaires residing in different countries, how the pandemic affects the net wealth of these billionaires, and the future of billionaires. Let's dive straight in.
Top 15 Billionaires In Different Countries:
Now, let's look at data-driven from the Wealth-X billionaire census from Altara. This data will help you to anticipate the information of top-ranked billionaires.
As far as the region is concerned, North America is famous for most billionaires. Around one-third of total billionaires lives there. The net worth of north American billionaires is approximately $4.6 trillion.
| | | | |
| --- | --- | --- | --- |
| Rank | Country | Total Wealth | No. Of Billionaires |
| 1 | US | $4,450 billion | 975 |
| 2 | China | $1,451 billion | 400 |
| 3 | Germany | $602 billion | 176 |
| 4 | India | $384 billion | 124 |
| 5 | UK | $266 billion | 120 |
| 6 | Hong Kong | $287 billion | 114 |
| 7 | Switzerland | $365 billion | 111 |
| 8 | Russia | $475 billion | 107 |
| 9 | South Arabia | $192 billion | 71 |
| 10 | France | $294 billion | 68 |
| 11 | Italy | $207 billion | 68 |
| 12 | Canada | $131 billion | 60 |
| 13 | Brazil | $159 billion | 52 |
| 14 | Singapore | $99 billion | 50 |
| 15 | United Arab Emirates | $181 billion | 45 |
These top 15 countries own around 75% of the global billionaire population and 81% of all billionaire wealth.
Ranking on Top, the US maintained its status as a dominant billionaire country. China is still in 2nd position and faced a downfall in the wealth calendar of the global world.
Key findings from Billionaire Census 2022:
The Billionaire Census 2022 reveals the following significant results:
North America is the leading region in the world of billionaires, having 1053 billionaires, recorded elevation in population growth and wealth gain.
Kuwait City, San Fransisco, and Hong Kong have a large density of billionaires.
The technology industry has the youngest, most self-made billionaires out of the top 5 primary billionaire industries.
Only 20 "super-billionaires" have a net worth of over $50 billion and controlled 17% of all billionaire wealth in 2021, a significant rise from 11% in 2019 and just 4% in 2016.
According to data from another Altrata company, BoardEx, The typical US CEO or non-profit trustee has a second-degree relationship with more than 250 people.
Transfer Of Wealth During Covid-19:
Altra is a global leader that launched the billionaire census 2022. News based on wealth-X data shows that the number of billionaires worldwide increased by 3.3% in 2021 to 3,311 people and that total wealth increased by 17.8% to a record $11.8 trillion.   The data gathered from Forbes informed that 2690 global billionaires noticed the rise in their wealth from $8 trillion to $13.5 trillion in one year.
The covid-19 pandemic has influenced the wealth of the majority of countries. Some countries experience a rise in their net wealth and some fall. During the two years of the pandemic, the world noticed that the top 10 rich men doubled their wealth from $700 billion to $1.5 trillion despite economic damage from Covid.
The interesting fact about these top-10 wealthiest men is that if they lose 99.9% of their wealth, they again would be the rich from 99% of the population.
The downfall of China and the Rise of India:
Although the Covid-19 pandemic thrust many households into poverty, there was also a rise in wealth. China is the second-ranked in billionaire wealth. Due to economic changes, Chinese wealth experienced a downfall of 2% last year. Surprisingly, India came out in terms of wealth by 19% in 2021.
Top-5 Billionaires Primary Industry:
According to the Wealth-X billionaire census, the Technology industry is leading in terms of most young, self-made male billionaires. 
Here is the list of top industries and their respective global billionaire population: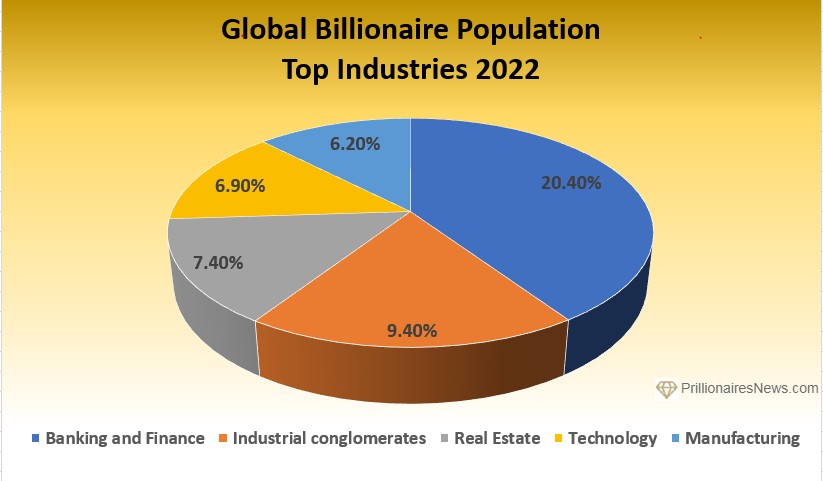 The banking and finance industry has a comparatively large billionaire population. It is the dominant primary industry having a 20.4% billionaire population. Industrial conglomerates are in 2nd ranked industry having a 9.4% billionaire population. Thenceforth real estate, technology, and manufacturing comprise around 7% population.
 The Rich Get Richer During Covid:
According to a recent study, the wealth of the world's wealthiest people increased to a record high of $10 trillion during the height of the coronavirus epidemic thanks to a stock market surge. Since COVID-19 started, the billionaires' wealth has increased more than it did throughout the previous 14 years.
Example: 
According to data from the Forbes magazine billionaire list, Elon Musk experienced a gain of 10-fold wealth in the first 20 months of the pandemic, surpassing Jeff Bezos (Amazon Founder) to become the wealthy person in the world.
According to Oxfam International, Throughout the Covid-19 epidemic, the wealth of the top 10 wealthy people has doubled.
The reason for becoming richer during Covid is:
Political decisions that are biased in Favour of the wealthy and most powerful people result in becoming them richer.
Their wealth increased due to rising housing prices and recovering stock markets.
A "massive shift" of wealth from the public sector to the household sector had been made possible by low interest rates and Government support programs.
The rapid, short-term effects on global markets result in the increasing wealth of wealthy people.
Future Of Global Billionaire Wealth:
No doubt, Billionaires' wealth is unbeatable. They have significant power and influence because their net wealth equals around 11.8% of the global GDP.
The wealth of billionaires has increased significantly over the past ten years, outpacing the growth in the number of billionaires themselves.
According to a Wealth-X analysis, the rich people in the world—those with a net worth of at least $5 million US, will be transferring $15.4 trillion in wealth to the next generation by 2030.
Conclusion:
Collectively, Global billionaire wealth increased during and after the pandemic. Not only the wealth of billionaires increases but so did their number. Here is the most important thing you need to remember, Somewhere, some got a rise in their wealth, some had a downfall, and some remained consistent.
Will the global population of billionaires increase with time passing?