To this day, vacationers in search of the ultimate experience have been drawn to the allure of luxury cruise companies. Some entice tourists with adventurous journeys to remote locations, while others pull guests with cozy accommodations and engaging enrichment activities. Here is the list of the best cruise ships for you that will provide the finest experience.
Celebrity Cruises
The first number on the best and most luxurious cruise list is of course: Celebrity Cruise. Luxurious ships of Celebrity Cruises are outfitted with advanced furnishings, high-end technology, exquisite dining selections, and spas. Celebrity is a premium cruise that provides some little indulgences (like positive things) that are standard on luxury cruise lines. 
There is a wide variety of things to do and see on the ship. Passengers may spend their days participating in various activities, from cooking demonstrations to other culinary events, yoga, games, and contests. These ships are famous for offering luxurious common areas with expensive artwork and sleek modern furnishings, as well as spacious bedrooms and various restaurants.
In the Vegas manner, revues, comedians, talent shows, etc., may be expected at night, making the celebrity cruise more luxuries and high-end. People love to spend their time on celebrity cruises.
Dishes in Celebrity's Reflection main restaurant are the first to be SPE-certified.
Seabourn cruises
Seabourn cruise has indoor and outdoor areas with attractive decor and a user-friendly layout responsible for entertaining passengers. Passengers can enjoy their morning and evening by doing various things, like enjoying their meals on the private balcony. 
 The Seabourn Cruise has a restaurant and other well-known eating options. There is the main restaurant, a buffet, and other eating options available according to the need of passengers.
At The Retreat, you may bask in the sunshine or take refuge from the heat. There are 15 cabanas to choose from, each with its luxuries like a TV and mini-fridge stocked with multiple refreshments.
Seabourn is highly regarded as one of the most incredible luxury cruise lines because of the company's commitment to providing guests with attentive yet humble treatment. 
Oceania Cruises
People will enjoy Oceania's fine dining options, interactive cooking demonstrations, and themed shore excursions. Four of Oceania's six ships carry less than 700 passengers, so that customers can expect a high degree of individualized service. Passengers have also complimented the sophisticated furnishings and excellent service on board.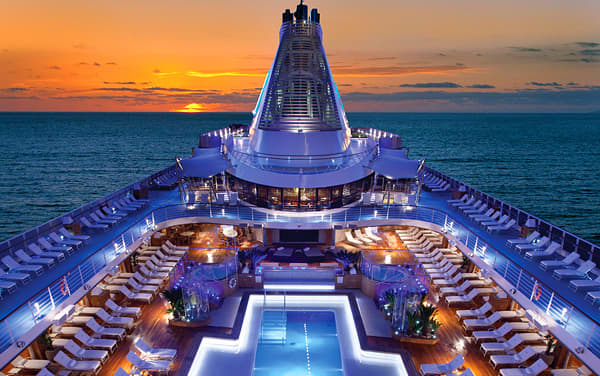 If you're looking to book a suite on your next cruise, look no further than the Oceania Cruise. One hundred forty-seven suites of varying sizes and layouts, plus 478 standard cabins. A suite is a luxury accommodation in high demand, so if you want one, you should make your reservation as soon as possible.
Silversea cruises
Silversea cruise is a luxury cruise line that focuses on privacy and individual service. Despite the size of its ships, Silversea continues to be a leader in the luxury cruise industry. Passengers can enjoy butler service in the comfort of their room or attend thought-provoking seminars given by the ship's expert faculty.
When it comes to one-on-one care, Silversea's ships stand apart from the crowd. With a hospitality alliance, the Leading Hotels of the World provides training for staff members. The staff is very kind and helpful. However, servers will rapidly learn your drink preferences and have them ready for you, along with a few tasty snacks in the Silversea that make a person passionate to choose Silversea as a cruise for their next journey.
Princess Cruises
It has been six years since Princess last sailed out of Texas, but today marks the beginning of that wait as the first cruise aboard the Ruby Princess sets sail from Galveston.
Princess Cruises, one of the most recognizable names in the industry, is a premium cruise line that serves 330 different countries and regions annually. Their 15 ships travel to many countries, including the Mexican Riviera, the Caribbean, the Panama Canal, Alaska, Europe, South America, Australia, and World Cruises, among other places. Princess Cruises is consistently voted "Best Cruise Line for Itineraries" due mainly to the meticulous planning of 170 itineraries by a team of skilled location specialists.