Buying a used car is often likened to a treasure hunt. It's about finding the right car at the right price, and the timing can make all the difference. With the used car market booming in countries like the USA, UK, Australia, and Canada, understanding the best time to make that purchase can save you a pretty penny. Whether you're a first-time buyer or a seasoned car enthusiast, this guide will navigate you through the winding roads of the used car market in these four countries.
Best Time to Buy a Used Car
USA
In the land of the free and the home of the brave, timing your used car purchase can be a game of strategy. Historically, the best months to buy a used car in the USA are October, November, and December. Why? Dealerships are eager to clear inventory for the new year models, and holiday sales events offer additional incentives.
Days of the Week: Mondays and Tuesdays are often the slowest days for car dealers, making them more willing to negotiate.
Sales Events: Keep an eye on Memorial Day, Labor Day, and Black Friday sales.
Regional Variations: Consider state-specific factors like weather, local holidays, and economic conditions.
UK
The UK's used car market is as diverse as its weather. Brexit's impact, VAT implications, and seasonal trends play a significant role in determining the best time to buy.
Seasonal Trends: Convertibles in summer, 4x4s in winter. Timing your purchase with the season can lead to savings.
VAT Implications: Understanding VAT can help you navigate price fluctuations.
Post-Brexit Market: Brexit has brought changes to import regulations, affecting prices.
Australia
Down under, the used car market dances to a different beat. State regulations, auction trends, and consumer preferences shape the best buying times.
End of Financial Year (EOFY): June is a hot month for deals, thanks to EOFY sales.
Auction Trends: Monitor car auctions for potential bargains.
State Regulations: Different states have varying regulations, impacting prices.
Canada
In the Great White North, currency fluctuations, import regulations, and provincial differences guide the used car market.
Currency Fluctuations: The Canadian dollar's value can affect car prices.
Provincial Differences: Taxes and regulations vary by province, influencing the best time to buy.
Seasonal Sales: Like the USA, Canada sees significant sales during holiday periods.
Impact of Technology
The digital age has revolutionized the used car market. Online platforms, virtual tours, and AI-driven price comparisons are empowering consumers to find the best deals at any time of the year. Additionally, the integration of blockchain technology is enhancing transparency and trust in transactions. Mobile applications are also making it easier for buyers to access information and make purchases on the go.
Economic Factors
Economic stability, interest rates, and inflation can influence car prices. Monitoring these factors can help you time your purchase for maximum savings. For example, during periods of low-interest rates, financing a used car becomes more affordable. Conversely, high inflation can lead to increased prices. Global economic conditions, such as trade agreements and currency fluctuations, can also impact the used car market.
Environmental Considerations for the Best Time to Buy a Used Electric or Hybrid Car
With the rise of environmental consciousness, electric and hybrid vehicles are gaining popularity. Understanding the market for these cars can lead to savvy purchases. Governments are offering incentives for electric vehicle purchases, and the expansion of charging infrastructure is making them more accessible. The push for sustainability is also leading to stricter emission standards, affecting the availability of certain used car models.
Consumer Behavior Trends
Changing consumer behaviors, such as the shift towards remote work, are influencing car buying trends. Adapting to these changes can guide your buying decisions. The pandemic has accelerated the trend towards online car buying, and consumers are increasingly valuing safety features and fuel efficiency.
Legal and Regulatory Aspects
Legal considerations, such as emission standards and import regulations, can affect the used car market. Staying informed about these aspects ensures a smooth buying process. In some regions, regulations are being implemented to phase out older, more polluting vehicles, affecting the availability and pricing of used cars.
Tips and Advice
Buying a used car is not just about timing; it's about knowledge and negotiation. Research the car's history, inspect it thoroughly, and don't be afraid to haggle. Utilizing online tools and consulting with professionals can further enhance your buying experience. While the price, mileage, and age of a car are fundamental considerations, buyers must also carefully evaluate factors such as the availability of warranties, flexible financing options, and the credibility and reputation of the seller
Average Price vs. Mileage for the Top 10 Popular Car Brands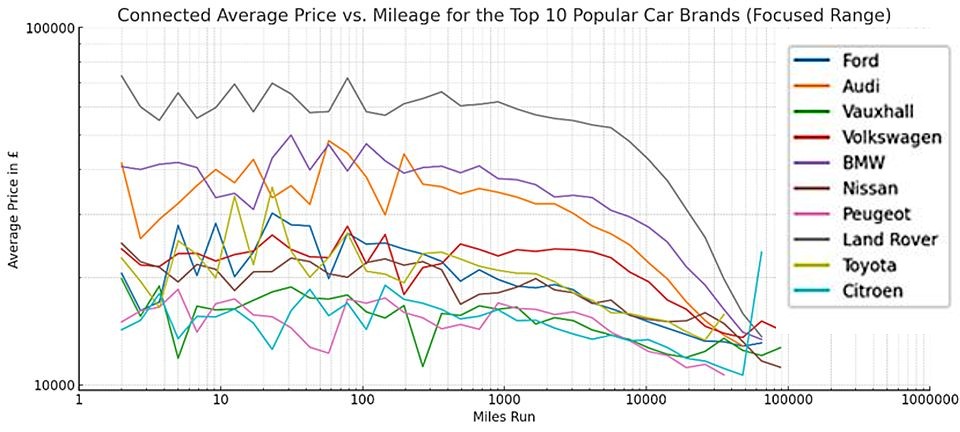 Average Price vs. Age (0 to 25 Years) for the Top 10 Popular Car Brands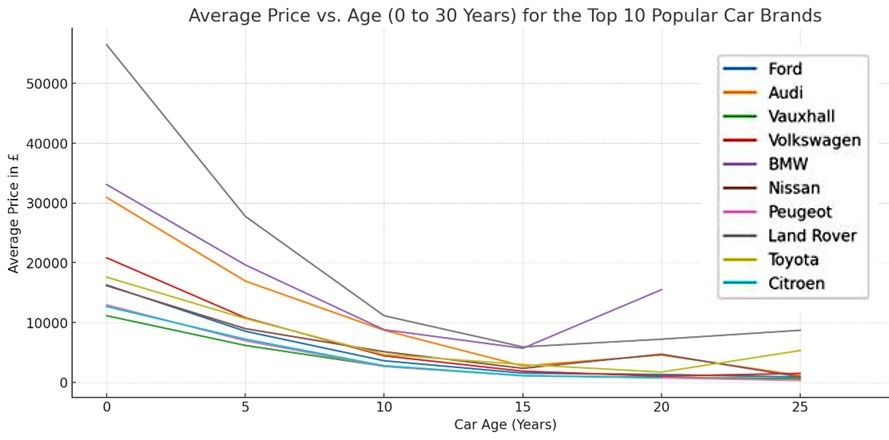 Case Studies on the Best Time to Buy a Used Car
Real-life examples can provide valuable insights. For instance, a study in Australia showed that buying a used car in June saved an average of 7% compared to other months. In the UK, research has shown that the best time to buy a used car is during the weekdays, as dealers are more likely to negotiate.
Future Predictions
The used car market is ever-evolving. Predictions for the future include increased demand for electric vehicles, continued growth in online sales, and potential impacts of global events like pandemics. The integration of autonomous driving technology and the development of subscription-based ownership models are also expected to shape the industry.
Comparison with New Cars
Buying a used car vs. a new car has its pros and cons. Understanding these can guide your decision-making process. Used cars typically offer better value, but may come with hidden issues. New cars offer the latest technology and safety features but depreciate quickly. The choice depends on individual preferences, budget, and needs.
Used Car: Seasonal Trends
Seasonal changes, such as winter in Canada or summer in Australia, can affect car prices and availability. For example, demand for convertibles may increase during the summer, while four-wheel-drive vehicles may be more sought after in winter. Understanding these trends can help you find the best deals.
Impact of Global Events on the Best Time to Buy a Used Car
Global events, such as economic recessions or pandemics, can have far-reaching effects on the used car market. The COVID-19 pandemic, for example, led to a surge in used car prices due to supply chain disruptions and increased demand for personal transportation.
Interviews with Experts
Insights from industry experts can provide valuable perspectives on the best time to buy. Professionals in the field emphasize the importance of research, inspection, and understanding market trends. Engaging with experts through online forums, podcasts, or consultations can provide personalized advice tailored to your specific needs and preferences.
Interesting Fact
Did you know that the average car changes ownership at least three times in its lifetime? Timing your purchase right could make you a part of that statistic!
Final Thoughts
The best time to buy a used car is a complex equation, influenced by various factors. From seasonal trends to global events, understanding the landscape in the USA, UK, Australia, and Canada can lead you to the treasure trove of the perfect used car. Happy hunting!
Consider seasonal trends, economic conditions, and market demand. Dealerships often offer discounts at year-end, and regional variations like weather and local holidays can influence prices. Monitoring interest rates and inflation can also guide your buying decision.
Technology provides tools like online platforms and AI-driven price comparisons, enabling consumers to research and find the best deals. Virtual tours offer insights into the car's condition, and AI tools can analyze market trends to identify optimal buying
Global events such as recessions and pandemics can affect demand and pricing in the used car market. Economic factors like interest rates also play a role. Stay informed by monitoring financial news, industry reports, and following automotive experts on social media.