Check out the best airlines in the world in our comprehensive guide. We have all the info you need to know before your next flight.
The airline industry is one of the most competitive in the world. Every day, airlines are competing for your business by offering lower and lower fares, more destinations, and better customer service. So how do you choose which airline to fly?
There's no question that flying has become a more pleasurable experience in recent years. Airlines are doing everything they can to make the travel process more comfortable for their passengers, from upgrading their cabins with luxurious features to offering better food and entertainment options.
There are a lot of factors to consider when choosing an airline: price, route network, on-time performance, comfort, amenities, and more. In this article, we'll take a look at the world's best airline ratings 2022 according to several different rankings and surveys. We'll also take a look at what makes these airlines so special and the most expensive airline (and why they're worth the extra cost).
Best airline rankings 2022:
Below in the table, we keep each airline in sequence by giving them a score on different factors. The scores are based on a scale from. We've also added some comments to help explain our reasoning behind each score.
| | | | | |
| --- | --- | --- | --- | --- |
| AirLine | Rating | Reliabiltiy | Customer Rating | Saftey |
| Qatar Airways | 4.9 | 4.8 | 4.7 | 4.9 |
| Singapore Airlines | 4.8 | 4,7 | 4,7 | 4,4 |
| Etihad Airlines | 4.7 | 4.6 | 4.0 | 4.2 |
| British Airways | 4.2 | 3.6 | 4.1 | 3.9 |
| Turkish Airlines | 4.0 | 3.5 | 3.2 | 4.2 |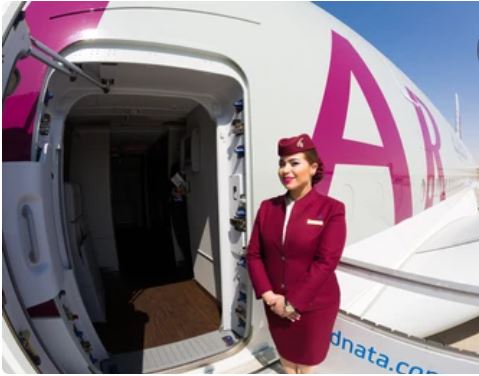 What is the number 1 airline in the world?
1.                Qatar Airways
Qatar Airways is the #1 best airline in the world which is most expensive airline. This award-winning carrier has grown to more than 140 destinations worldwide and offers levels of service excellence that helped it become the best in the world.
From its innovative air travel technology to its luxurious amenities, Qatar Airways sets a new standard for aviation experiences.  Qatar Airways is without a doubt the most luxurious airline in the world. The company has a long history of providing top-of-the-line service and its planes are some of the most luxurious in operation. From its first-class seats to its amazing food and wine selection, Qatar Airways always puts guests first.
The airline's success can be attributed to several factors, including its focus on customer satisfaction, aggressive marketing efforts, and strong partnerships with global airlines.  Its commitment to quality services has also won it numerous awards and accolades from both passengers and industry experts alike. Whether you're looking for an affordable flight or a luxury experience at some of the world's most popular destinations, Qatar Airways is sure to have something for you.
Final note:
Qatar Airlines is the world's best airline according to the latest rankings by Skytrax. The airline scored 5 out of 5 stars in all categories, including customer service, aircraft quality, and cabin crew. It also ranked first for on-time performance and baggage handling. This makes Qatar Airlines the only carrier to receive a perfect score in all areas!
2.                Singapore Airlines
Singapore Airlines is often hailed as the second-best airline in the world. And for good reason: their service is impeccable and they always seem to be one step ahead of the competition.   Over 130 destinations around the world are served by Singapore Airlines and Scoot together, bringing you closer to the people and places you care most about.  A large part of Singapore Airlines' brand image is the Singapore Girl, which is a recognizable icon that has come to be synonymous with the level of care, luxury plane cabins and service that customers have come to expect from this airline.
Singapore Airlines never misses a beat, no matter what time of year it is. You can count on them to arrive at your destination on time, every time. Whether it's new aircraft designs or innovative passenger services. This luxury airline always seems to be pushing the envelope forward. From food and beverage options to entertainment options, there's something for everyone on board their planes!
No matter how complicated or difficult a situation may become, Singapore Airways staff are more than happy to help out in any way possible (and usually do so without asking). Plus, they go above and beyond when things go wrong – making travel nightmares a thing of the past!
3.                Etihad Airlines
Etihad Airlines is the best airline in the world and is considered the most luxurious airline, according to a recent study. The survey, conducted by the travel website business insider article best airlines in the world, looked at how satisfied customers are with each of the world's top 10 airlines. Etihad came out 3rd with an overall rating from travellers who have used its services.
With its new aircraft, including the Boeing 787 "Greenliner" and the Airbus A350 "Sustainability50," the airline has consistently pushed its sustainability efforts. AirlineRatings awarded Etihad with the environmental airline of the year award in recognition of its initiatives.
Etihad takes care of all aspects of your travel from start to finish by providing topnotch customer service 24/7/365 via phone calls, online chat rooms (including live translation), social media platforms (including dedicated apps for each major language), as well as personal visits from representatives at check-in or during boarding if needed.
And finally – perhaps most importantly – Etihad never charges extra for anything! No hidden fees, no added taxes nothing! You simply pay what's quoted upfront without any surprises or unpleasant surprises along the way.
4.                British Airways
British Airways is often considered the best European airline in the world. As the nation's airline, British Airways is based in London, and it operates flights to, among other destinations, Europe, the Americas, Africa, Asia, and Australia. 
This reputation is well-deserved, as they consistently rank among the top airlines in terms of customer satisfaction ratings. They offer a wide range of amenities and services, including award tickets that can be used on any airline. In addition to their excellent service, British Airways also has an extensive network that covers almost every destination in the world.
5.                Turkish Airlines
In our final race of the world's best airlines, we have Turkish airlines. It is one of the world's leading international airlines, Turkish Airlines operates from Istanbul and serves Europe, Africa, North America, South America, and Asia. As well as operating domestic and regional routes throughout Turkey and the Middle East, it also operates international routes. According to Airline Ratings, Turkish Airlines is Europe's best long-haul airline and the world's most improved airline.
Why is Turkish Airlines so successful? It focuses on providing high-quality service at a fair price, which makes it a favourite of customers worldwide. Plus, Turkish Airlines offers great value with its low fares compared to other airlines. This best economy-class airline consistently ranks highly on surveys measuring the quality of service and overall satisfaction from passengers.
Key Takeaway:
There is no definitive answer to what is the top 10 best airlines in the world. As it depends on individual preferences. However, some of the world's top airlines include:
Qatar Airways
Emirates
Etihad
Singapore Airlines
Turkish Airways
American Airlines
British Airways
Air China
Japan Airlines
Korean Air
Even though this article is about the best airline in the world, I want to make it clear that everyone's opinion will be different. That's why I encourage you to do your own research and come up with your own conclusion. In the meantime, please be sure to check out our other posts on the topic. We would really appreciate it if you took some time to share this blog post with your friends and fellow travellers, too. Thanks again and Come back soon for more great content!